Musicmaker Monochords
Regular price
$699.00
$0.00
The Musicmakers Monochord is endlessly captivating. Just start strumming and immediately create a hypnotic atmosphere. The monochord delivers a sound that can fill a room without being overpowering. Music therpists, sound healers, and mediation leaders love the Monochord. The repetive nature of the instrument and the enveloping soundscape it creates are perfect for establishing a calm, relaxing, stress free envirmonment.
Our Monochords are hand-built using quality, solid wood. The frame is a rich cherry and you have your choice of soundboard material:
- Solid Mahogany which is know for it's stability and warmth or
- Reclaimed Redwood which has a power and richness you can feel.
What's Included in your monochord purchase:
Watch the video below to get familiar with the 3 Monochord tunings available:  Middle C, Open Chord C and Low C.
---
How do you play the monochord?
There are a variety of ways that you can play the monochord. The simplest thing to do is simply pull your pointer finger toward you across the strings. Do this with the pointer fingers on both hands and alternate hands. With practice you can be quite smooth and create a sound that seems to have no beginning or end.
You can get different tones by engaging your fingernails on the strings or just using the pads of your fingers. Try playing soft or hard. Move your fingers closer and closer to the bridge and notice how the tone changes.
Key Specs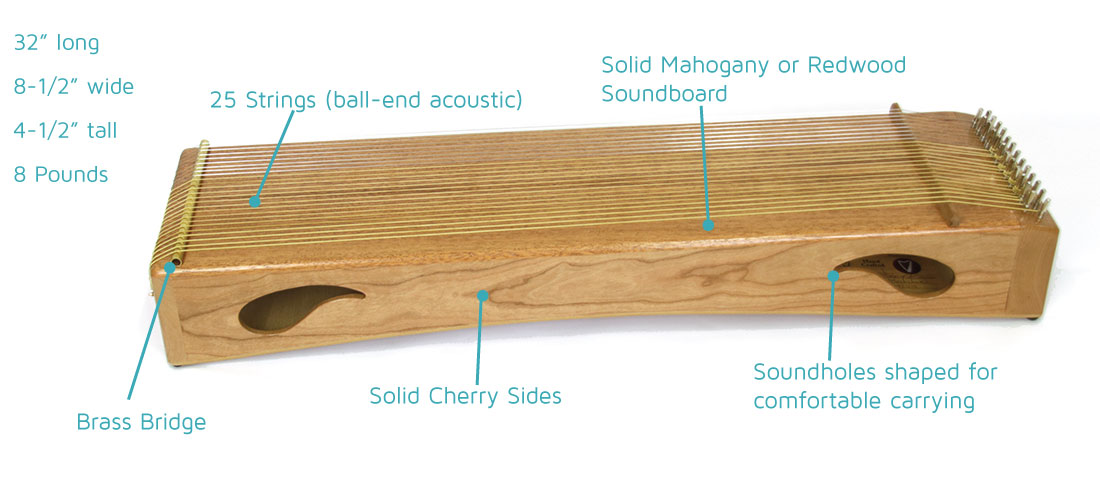 | | |
| --- | --- |
| Soundboard | Solid Mahogany or Redwood |
| Sides | Solid Cherry |
| Strings | 25 ball-end acoustic |
| Tuning | Varies |
| | |
| --- | --- |
| Length | 32" |
| Width | 8-1/2" |
| Height | 4-1/2" |
| Weight | 8 Pounds |
---
Share this Product